Throughout the year, Nuremberg is often an overlooked Germany city compared to it's more popular rivals, however, all of that changes come Christmas time. This quaint city completely transforms into a truly unique and timeless winter wonderland that is unlike any other.
If you have heard about the Christmas markets that spring up across Europe during the month of December, you probably already know that Germany steals the show. Not only do they have the most markets in each city, but they are also some of the oldest ones around.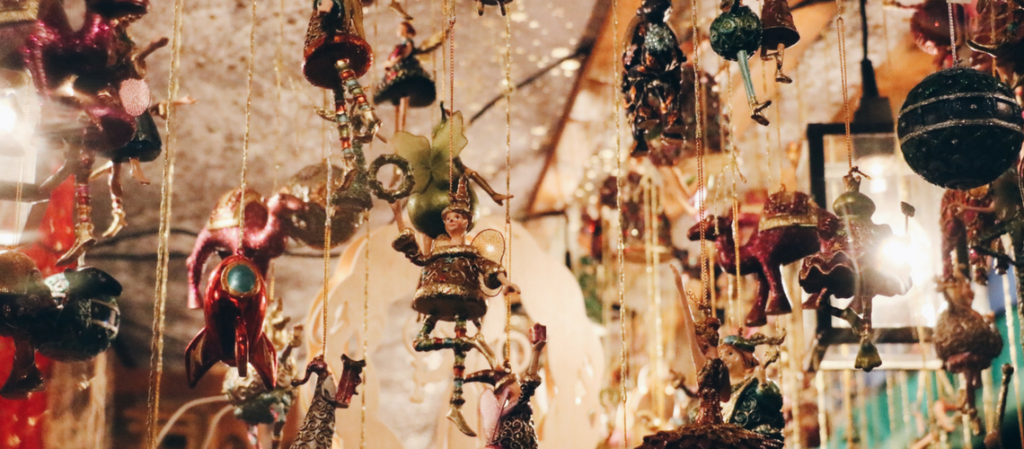 While every city has their own charming markets to stroll and savor, Nuremberg definitely beats the bunch. This Christmas market offers a little bit of everything and has stalls scattered throughout the entire city, creating a festive atmosphere around every corner your turn.
So why are these markets so special? Well, unlike other markets that may be selling cheap trinkets and mediocre food, Nuremberg just does everything to the next level. Not only do they sell incredible handcrafted Christmas decorations, but all the stalls are also decorated and displayed to perfection.
When Does the Nuremberg Christmas Market Open?
If you are planning a trip to Nuremberg to check out these Christmas markets for yourself, make sure you come at the right time. This year, the markets started on November 30th and ended on December 24th. These dates are specific to Nuremberg and may be different in other cities. To see their actual hours, head on over to the official Nuremberg Christmas Market website.
What Can You Find at the Nuremberg Christmas Market?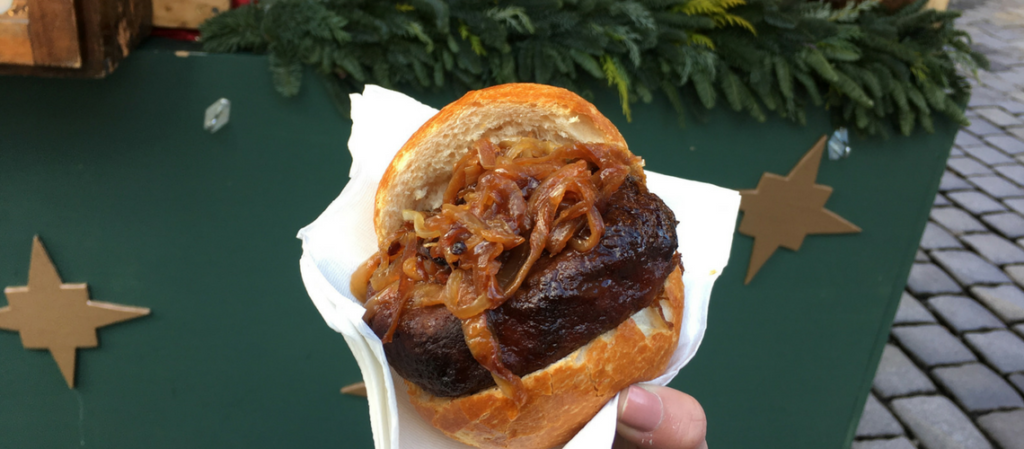 When you go to a German Christmas market, you can expect fire grilled sausages, steamy mulled wine, freshly baked gingerbread, and endless chocolates and other tasty treats. Nuremberg's stalls proudly display rows and rows of different local foods to sip and sample as you walk throughout the labyrinth of stands.
For those of you who don't know about mulled wine or glühwein in German, this drink is a hot wine cooked with sugar, spices, and citrus that's the most common cocktail to try in Christmas Markets. This traditional beverage is the perfect drink to keep you warm as you wander throughout the city.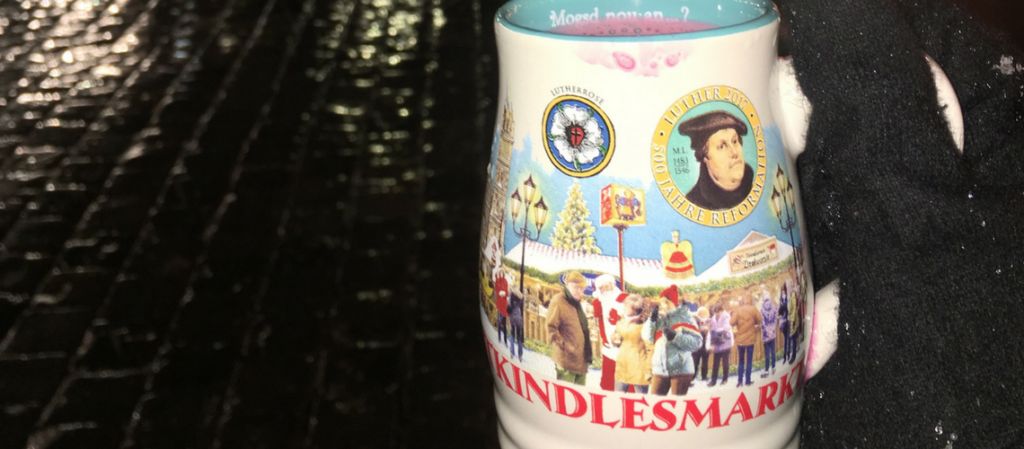 While you sample some delicious German food, shop through the wide assortment of Christmas decorations that line the market. From beautiful glass ornaments to unique gold foiled angels, you can find all kinds of decorations right in the center of it all. They even have some untraditional items such as lanterns and jewelry that you can shop for as well.
One of my favorite parts of the market was their international section. In one small cluster of stalls, they had each stand selling products and decorations from different countries around the world. They even have an Atlanta, USA where they were selling m&ms and butterfingers.
My Experience at the Nuremberg Christmas Market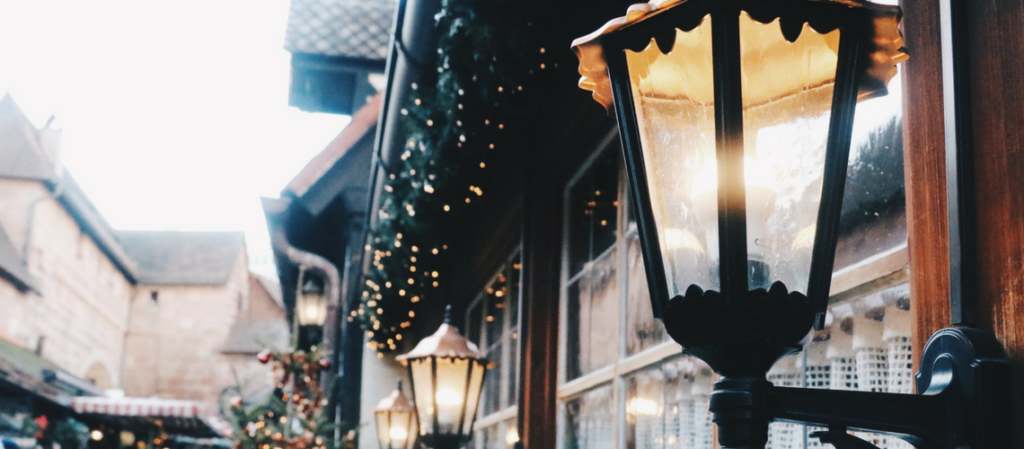 For me, I had planned to go see this Christmas market for years, but due to a lack of time and having to finish school in the states, I was unable to make it happen. Finally, once I moved back to Spain, my number one travel goal for the year was to make it to Germany in December.
Not only was this going to be a huge accomplishment for my bucket list, but it was also my first trip by myself. Even though I have always wanted to go someplace I have never been before completely solo, the thought of it scared me more than anything. So when I decided I was going to Germany and couldn't find a travel buddy, I decided this would be the perfect trip to test it out.
Luckily, the trip turned out incredible. As soon as I got into the city, I checked into the Five Reasons Hostel and hit the streets. Also, if you are looking for an affordable accommodation, this hostel was one of THE BEST I've ever stayed in. Not only are the rooms incredibly spacious, but the hostel itself was also clean and modern.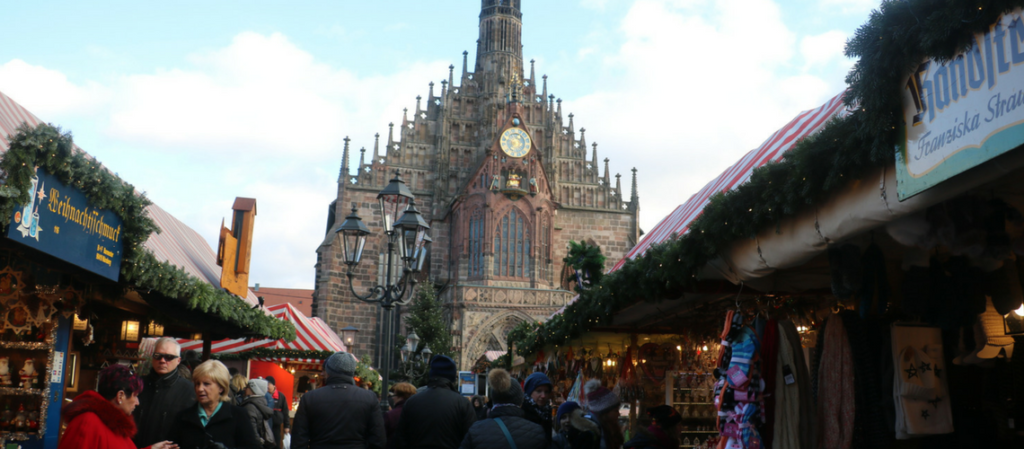 As soon as I set down my bags, I headed to the center of town. Although it was already night and I didn't want to get lost, I decided I could at least check out the main center where majority of the Christmas markets were and then call it a night.
To my surprise, the city was a lot smaller than I had expected and was super easy to navigate. As you walk through the outskirts of the old town, you can see smaller stalls already set up selling mulled wine and sausages.
Once I made it to the center, I was completely shocked by the size of the market itself. Each wooden stall was lavishly decorated with red and white striped roofs, garland and lights. As I walked from stand to stand, a choir began to play Christmas melodies and a light dusting of snow began to fall. Life could not have felt more like a dream.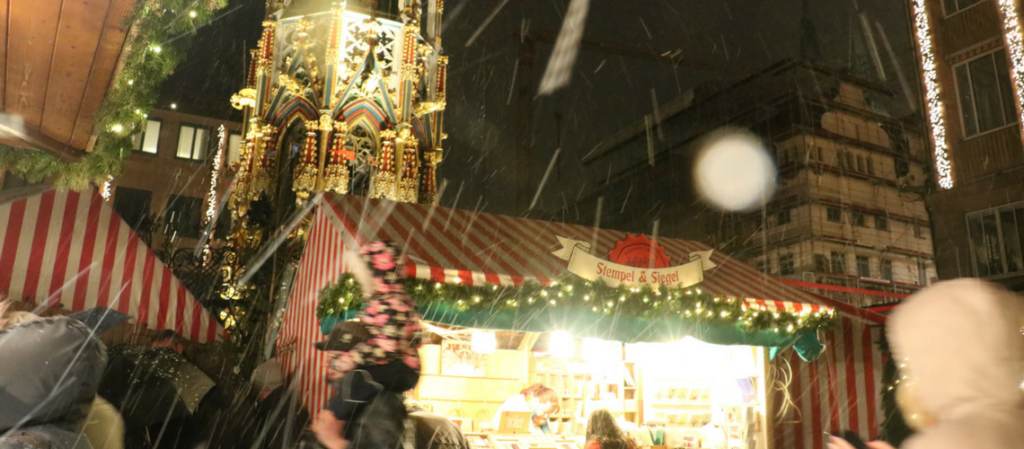 To celebrate my first solo trip, I got a glass of mulled wine and continued my exploration throughout the city. Within an hour or two, I was able to see all the main points of interest within the old town walls.
My Recommendations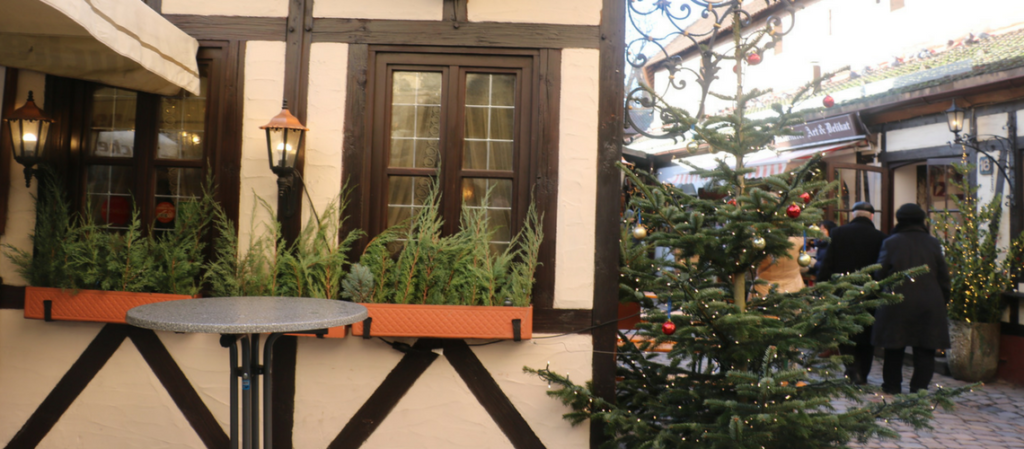 If you're coming to Nuremberg for the Christmas Markets, try to stay for at least two nights and three days. This will give you plenty of time to explore all the markets throughout the city while also getting to see Nuremberg itself.
Once you get there, make sure to try the food in the market. Not only is it delicious, but it is also incredibly cheap. Embarrassingly enough I only ate at the markets for lunch and dinner throughout my entire stay because it was so yummy!
It is also important to bring cash. While some of the other more expensive markets that sell ornaments and other Christmas decor might take card, it's always wise to have cash on hand for the inexpensive food items.
When it comes to the markets themselves, don't just stay at the central Hauptmarkt (main square). Branch out to the other surrounding streets to find other areas such as the children's market and the cozy Christmas stands of Handwerkerhof.
Lastly, if you want a unique souvenir, make sure to keep your cup when you order a mulled wine. Now, this isn't stealing, they are actually meant to be souvenirs! Every year each Christmas market designs their own unique cup so that visitors can collect them from each town they travel to. When you order a mulled wine, you will normally pay an extra 3 euro deposit for your first round. Instead of returning your cup, keep it and take it home with you.
Even though I've only been to Nuremberg during December, I would highly recommend this city for any time of the year. If you're looking for a quaint German city with beautiful architecture, delicious food, and a historic past, Nuremberg is your place to be.
Below are some photos of the Nuremberg Christmas markets as well as places around the city.
Hope you enjoy!